August 17, 2022
Preparing a startup for geographic expansion is an important factor to take into consideration when strategically planning a new market entry. Geographic expansion happens to be a very particular challenge, especially when venturing into foreign markets such as...
---
August 15, 2022
As a startup you will be in an advantageous position by having the capabilities to gather and understand data to drive your decisions. Data will provide you insights into different parts of your business from sales, operations, marketing, to human resources. Ultimately making decisions based on data will save you...
---
August 10, 2022
Key Performance Indicators (KPIs) and Goals are essential for any business to help evaluate the success of an activity in a particular organization. But what are KPIs and goals? KPIs are NOT the same as goals. Goals are the outcome you hope to achieve while...
---
July 26, 2022
Growth is one of the most challenging aspects for entrepreneurs when starting a company and it is also one of the most difficult metrics to track when you want to invest in a startup. To better understand this important aspect of entrepreneurship, we listened to... 
---
July 12, 2022
Every day new entrepreneurs try to embark in a startup journey following their dream and passions but only a small minority achieve success. There are many things that need to be addressed in an exceptional manner for a startup to take off the ground and...
---
July 5, 2022
Since the dawn of time, storytelling has been a fundamental part of the human experience. It is how we relate with others while simultaneously nurturing the future. Similarly, storytelling is just as crucial in the world of startups. As founders think about how...
---
June 30, 2022
Start-ups typically grow in a fast pace and founders face several challenges, and one of the most difficult challenges is attracting the right talent. Talent is the heart and soul of any start-up, so we spoke with two people with a deep understanding of this process.
---
June 27, 2022
Entrepreneurs often say that the only way to learn how to build a startup is to do it.  If you don't have prior experience in entrepreneurship, it is vital to learn to be an entrepreneur on the job. The 'Cane Angel Network spoke to two entrepreneurs, Joanna Smith, CEO of AllHere and Sergio Furio, CEO of Creditas, about their experiences building their companies to see if we could glean some insight into this often-opaque process.  Read More > 
---
June 14, 2022
Culture is one of the most important engines of the company, and in today's world, we rarely see a startup being transformational and iconic without a strong sense of Culture. Culture acts like a glue that keeps them going and is a set of beliefs and behaviors that the team follows to build a company when it's going against all the tough odds in the startup world. Read More >
---
June 1, 2022
Was the first venture capital financing in the late 15th century when the Queen of Spain agreed to fund Columbus' sailing of the ocean blue? This question was posited by Shu Nyatta, Managing Director of Softbank International, at a recent event jointly held with the 'Cane Angel Network to discuss the power of tech startups. Read More >
---
May 7, 2022
At the 'Cane Angel Network, we work to help entrepreneurs build successful companies and investors to identify them early. To achieve this goal, we partnered with Softbank to host discussions of key aspects of starting or investing in early-stage companies. Read More >
---
September 9, 2021
"It's not about selecting a product and finding a problem. It's about taking a problem and finding a solution", said Sergio Furio, founder and CEO of Creditas, a leading Brazilian Fintech company that specializes in secured loans. Read More > 
---
September 8, 2021
Creating a positive, strong company culture in a company is a way to help ensure longevity of your business. But how can one really develop a positive culture around other people & build a strong team to maximize and optimize long-term success? Read More > 
---
September 2, 2021
"I have yet to see a company succeed without a strong culture" said Sebastian Meja Founder and CEO of Rappi.  Meja, and Marco Fisbhen - Founder of Descomplica - were speaking on the importance of company culture to a start-up's success to the audience of the Softbank Operator School. Read More > 
---
August 26, 2021
"I would absolutely join a start-up out of school today, I would drop out even" said Shu Nyatta, Managing Director of Softbank International, during a presentation on the power of tech startups at the Softbank Operator School (SOS). SOS is taking place in Miami over the next 12-weeks in conjunction with the University of Miami and the 'Cane Angel Network, along with FIU and Miami Dade College. Read More > 
---
July 9, 2021
'Cane Angel Network is very excited to announce our fantastic partnership with Softbank, FIU & MDC and the launch of Softbank Operator School! SoftBank Operator School is a full semester program designed to fill the talent gap of highly trained tech operators and build a next-generation tech community in South Florida and Latin America. Read More > 
---
June 18, 2021
For an executive or founder of an emerging startup poised to achieve exponential growth, which funding strategy to pursue will be one of the most important decisions in scaling the business.  So, founders must be able to decide which investment strategy is the right fit for their company's goals. Read More > 
---
April 13, 2021
Last week we talked about how to evalute the target market for a company developing a drug, and some of the pitfalls that investors should be aware of if they hope to invest profitably in the space. With the high start-up costs and often long timelines for regulatory approval, pharmaceuticals are a high risk, but high reward, industry. Read More > 
---
April 5, 2021
Investing in the biotech and pharmaceutical space presents unique challenges. With an average of 12 years to FDA approval for a drug, significant time can pass before investors see profits from a compound. Read More > 
---
March 22, 2021
US healthcare venture capital (VC) funding set a new record in 2019 at 10.7 billion, a 10% increase from 2018. Although this may look appealing to healthcare entrepreneurs, most of this funding occurs during later-stage investments. Read More > 
---
March 15, 2021
Miami has received quite a bit of attention recently as the newest city-center to evolve into a tech hotspot brimming with entrepreneurs and investors. Announcements by such market leading firms as Softbank and Goldman Sachs that they plan to establish a presence in Miami have given the impression of a new trend emerging. Read More > 
---
March 8, 2021
Over the past decade, major changes have been made to the U.S. Securities and Exchange Commission (SEC) guidelines to allow startups to utilize equity crowdfunding (CF) to raise capital. Back in 2012, the Jumpstart Our Business Startups (JOBS) Act was passed. Read More > 
---
March 1, 2021
Most investors know that legal diligence is an important part of the due diligence process for any new investment.  This must include, among other things, an investigation into the company's intellectual property, business contracts, and formation documents. Read More > 
---
February 22, 2021
Choosing the proper entity selection for your start-up venture is crucial. This is how you will protect yourself, as the founders, and additionally, engage interest from potential investors. Read More > 
---
December 18, 2020
According to a survey by CB Insights, the #1 reason start-ups fail is there is "no market need" for their product or service.  Whether you are starting a new company, or looking to invest in one, the first order of business is to answer a simple question: will anyone want to pay for what I plan to offer? Read More > 
---
October 28, 2020
In our previous post we discussed if Agile is right for your company.  In this post, we will talk about how to implement it for those companies where it is. By using Agile as a mindset, your firm can obtain business agility through self-assessment and organizational mindset. First, leaders in your organization Read More > 
---
October 22, 2020
Anyone who has spent five-minutes talking to a software developer about their work is likely to have heard about Agile.  Agile is an approach to project management that allows teams to create and respond to change faster and more effectively.  It helps teams identify uncertainty and figure out how to Read More > 
---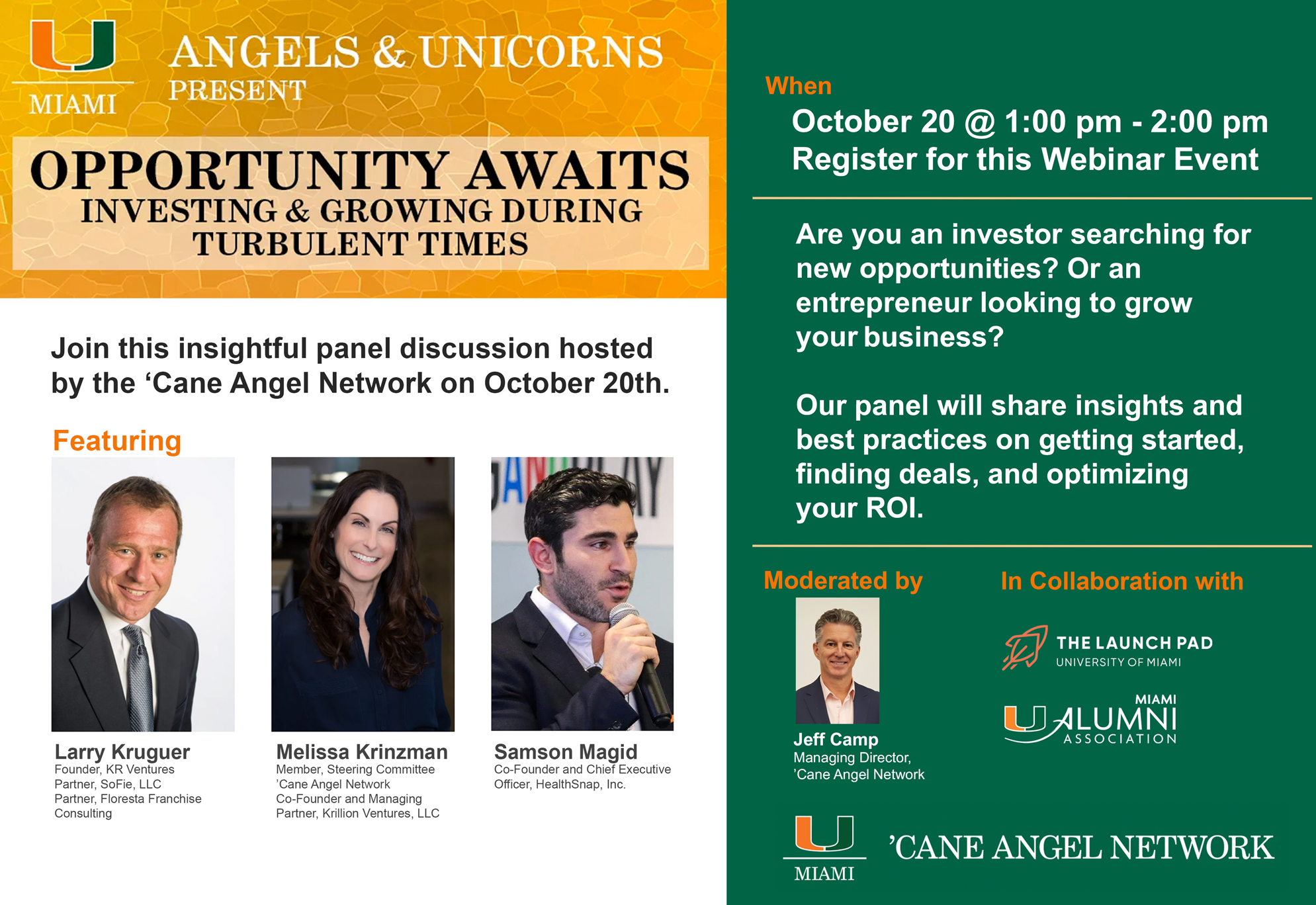 ---
October 9, 2020
Whether you are an entrepreneur hoping to raise money or an investor looking to participate in the next new, great opportunity, you will eventually encounter that staple of angel investing: the term sheet.  However, for those new to the game the term sheet, which can often be as concise as  Read More > 
---
October 1, 2020
There's an old saying: "In business there are two types of problems: finding customers and everything else." In a recent survey by CBInsights of over 100 startups that failed to secure follow-on funding, the #1 reason respondents cited as the reason for their company's failure  Read More > 
---
August 24, 2020
Whether one is an entrepreneur or an angel investor looking to back one, understanding the market landscape in which the start-up in question will operate is the first order of business. To do this, one must adopt a beginner's mentality and question all assumptions - especially those made by the start-up's founders.   Read More > 
---
July 17, 2020
For many entrepreneurs, building value for themselves and shareholders by coming up with innovative ideas, developing strong products and executing on sales and operations comes naturally. But many entrepreneurs overlook a key area of value creation: their brand.   Read More > 
---
June 11, 2020
According to FEMA, 40% of small businesses never reopen their doors following a disaster, and as recent events have demonstrated, no company is immune from experiencing crises. However, those that prepare in advance by creating and testing response plans and then react quickly and decisively when faced with a crisis improve their chances of recovery and often emerge as more resilient and innovative companies.   Read More > 
---
June 3, 2020
While the financial markets have enjoyed a healthy rebound since their lows in March, the data on Main Street continues to deteriorate. The initial damage has been troubling and public health officials are uncertain when the virus' infections will slow.   Read More > 
---
May 13, 2020
After assessing a start-up's idea and position in the market landscape, it is imperative to dissect the revenue model and perform traction analysis. As Angel List co-founder Naval Ravikant states, traction is "quantitative evidence of market demand."   Read More > 
---
May 4, 2020
Raising capital is a difficult and time-consuming process, but it can be made easier with proper preparation.  As a start-up team pitching to investors, knowing what investors are looking for and understanding their expectations will improve your chances of landing your next financing.   Read More > 
---
April 26, 2020
On April 24th, 2020, President Trump signed into law the Paycheck Protection Program and Health Care Enhancement Act (CARES Act 3.5) to refill the depleted funds provided in the CARES Act passed on March 30th. Below, is a breakdown of the new additions and how it will affect small businesses.  Read More > 
---
April 23, 2020
As the impact of COVID-19 continues to unfold, investors are starting to assess the implications for various industries in the economy. We have collected some of what we consider to be the best work on this topic in order to make it easier for readers to navigate the onslaught of articles and studies on the subject.  Read More > 
---
April 16, 2020
The impact of COVD-19 on the economy is still unfolding, but investors are already telling the founders of the companies in which they have invested to prepare for the worst.  As founders think through their options, an understanding of how previous recessions have affected their industry can help set some parameters for their decisions.  Read More > 
---
April 14, 2020
The Cane Angel Network is working to help small businesses and startups with the challenges presented by COVID-19 and widespread stay-at-home orders. The federal government's recently enacted CARES Act provides small businesses with access to funds, a critical lifeline for struggling businesses.  Read More > 
---
April 7, 2020
A business plan is a company's blueprint; it provides a roadmap for business owners and frames expectations for investors.  Many entrepreneurs will often have a good idea for what they want to achieve with their new business, but have difficulty organizing their ideas on paper and expressing their vision in a financial model.  Read More > 
---
April 7, 2020
The most difficult, but also perhaps the most important, part of due diligence is assessing the management team. No organization can succeed and survive without strong leadership.  Read More >
---
April 7, 2020
We are excited to announce our official launch of the 'Cane Angel Network! The 'Cane Angel Network facilitates investments in UM-related start-ups by UM-related early stage investors ("Angels") to further the success of the University of Miami's global community.  Read More >
---