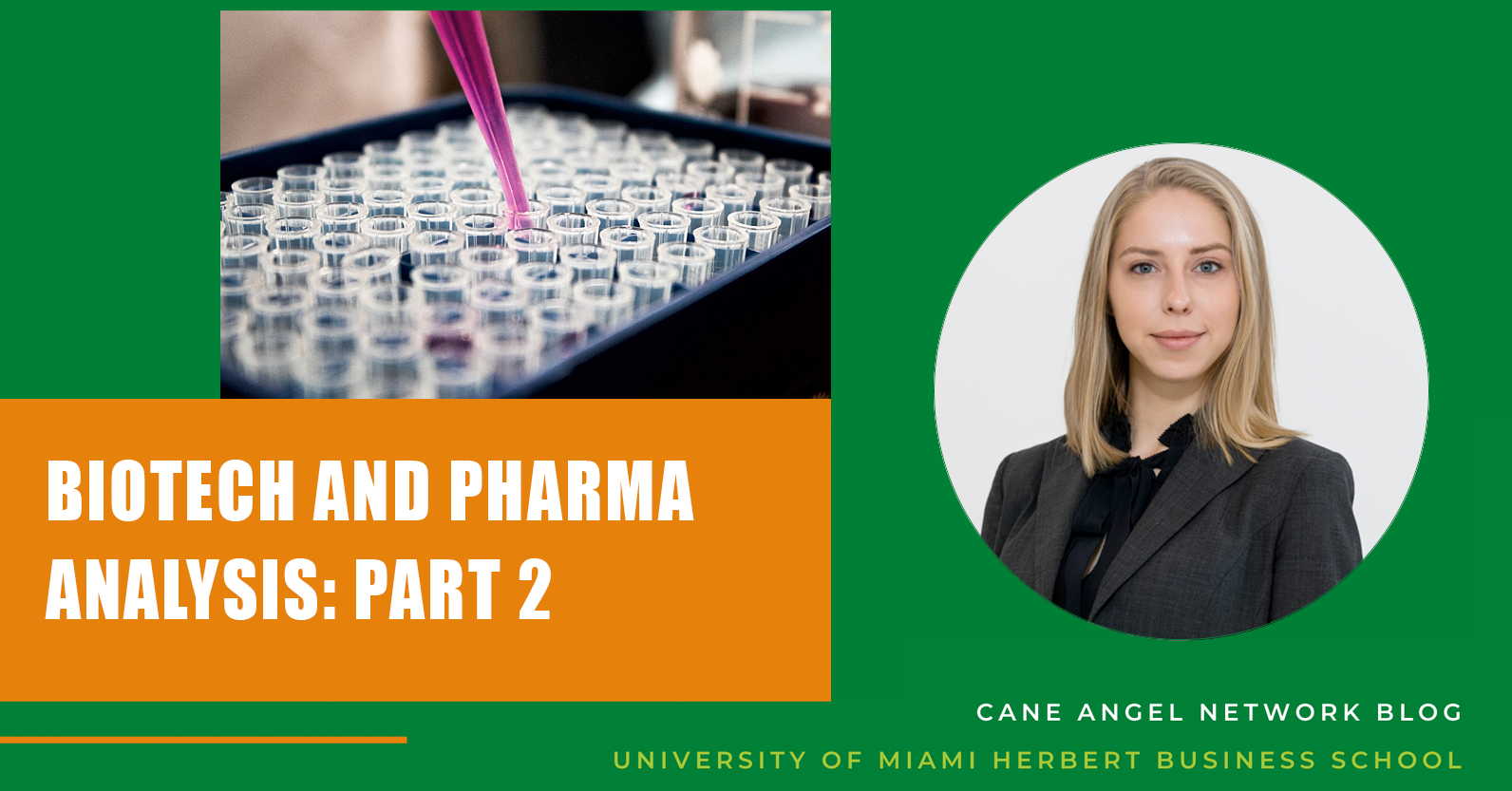 Last week we talked about how to evaluate the target market for a company developing a drug, and some of the pitfalls that investors should be aware of if they hope to invest profitably in the space.  With high start-up costs and often long timelines for regulatory approval, pharmaceuticals are a high risk, but high reward, industry.  The 'Cane Angel Network hopes to improve this risk-reward ratio for investors by bringing the key risks to the forefront and help investors better understand them.
Clinical trials are the means by which new therapeutics prove their efficacy in a controlled setting. When investigating a potential drug, investors must evaluate both their own company of interest, as well as the competition. Looking at clinical trial results allows investors to understand how their therapeutic of interest stacks up against other compounds. In order for a compound to gain FDA approval, the drug needs to provide a measurable benefit either in its efficacy profile or its safety/side-effect profile. The size and number of clinical trials can also help investors understand the development costs of a therapeutic. Costly preclinical and clinical trials stack on top of each other to average more than $985 million in development costs for a single therapeutic. This post will give an overview of basic clinical trial concepts and introduce a framework by which investors can build an understanding of drug competition through clinical trial analysis.
There are three phases of clinical trials in the pre-approval setting.
Phase I: This study is in healthy volunteers (with exceptions) and is focused on safety and identification of therapeutic dosage with an average patient size of 20-80 patients.
Phase II: These trials shift their focus to efficacy in disease patients, with a patient size averaging 100-300. If structured properly, phase II trials can be considered registrational, meaning their efficacy data may be used in FDA evaluation for approval. Not all trials are considered registrational. As an example, the sample size of a Phase I trial is too small for statistical significance, excluding that data from efficacy consideration, although not excluding it from safety consideration.
Phase III: These clinical trials (several hundred to 3,000 patients) continue to evaluate efficacy and safety/side-effect data in a randomized population.
Evaluation of clinical trial data is crucial to a deep understanding of a therapy's competition. FDA approval requires that a drug outperforms in certain indications or objective metrics. Thus, ideally, clinical trial data of the new therapeutic would outperform the standard of care (current accepted practice in that disease stage). Good analysis of competition includes looking into therapeutics that are still in the pipelines of other companies as well as already approved agents. Any trial with a U.S. site must be registered under clinicaltrials.gov, making this website a good start to identify U.S. (and international) competition. With more than a decade in development time, agents that are showing success in Phase II or III trials may reach the target market faster than the newly discovered therapeutic agent. This would decrease market size in that indication and create additional competition that the novel therapeutic would need to outperform in order to gain access to that sector of the market. The time-to-approval of therapeutics may be influenced by the owner of the agent as well. A high-priority candidate in a top-5 pharmaceutical company harnesses not only a vault of funding but also a wealth of drug development knowledge that can earn a faster time to approval compared to a fledging start-up with limited resources.
The indication target and therapeutic-type further influence approval time. While a medical device requires only three to seven years for approval, a drug requires twelve. Going deeper, time-to-drug-approval may vary depending on the disease target as well. In certain instances, approval time for rare disease indications may be decreased if a drug can show significant benefit in a population with limited treatment options. Thus, therapeutic-type and indication must also be factored into estimated time-to-approval.
Asking the following questions may help investors build a better understanding of the extent of competition in that disease setting.
What therapeutics are already approved in this setting? Is there a lot of room for improvement?
What therapeutics are in the clinical-trial stage of other company's pipelines? Will they beat the novel therapeutic to market?
How long does a therapeutic in this division usually take to get to market? Does this timeframe match the plans of the investor?
A siloed industry, the biotech and pharmaceutical space often deters unfamiliar investors. While the sentiment of only investing in what you understand ought to remain, building a basic understanding of the healthcare field and asking critical questions about the obstacles unique to the industry can help investors stand on firmer ground when venturing into the biotech and pharma space.
This page was written by Yana Kropotova and ​Jeffrey Camp​ . Ms. Yana Kropotova is a member of the Cane Angel Network investment team and is pursuing her MD/MBA at UM graduating in 2024. Mr. Camp is the Managing Director of the Cane Angel Network.