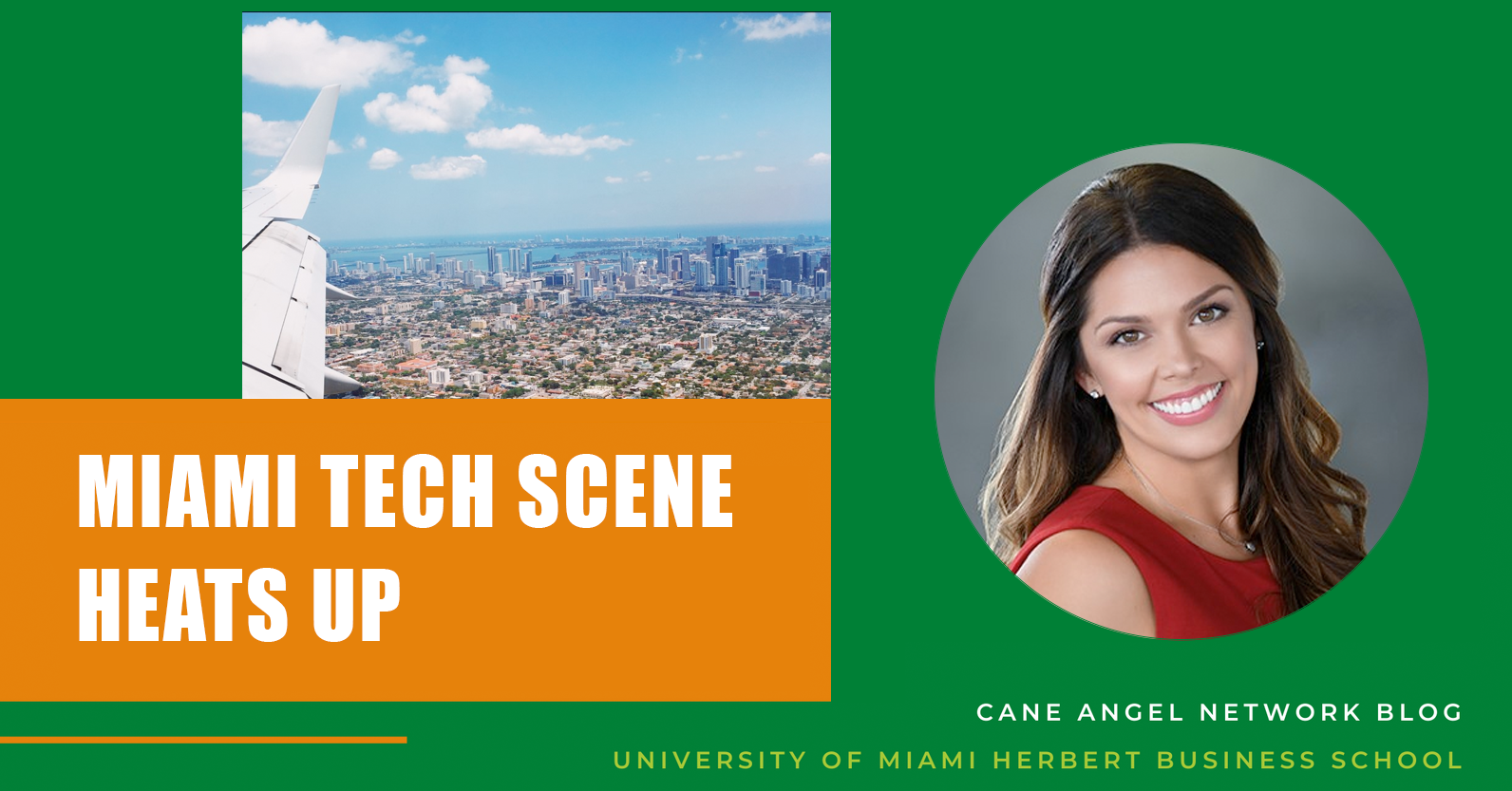 Miami has received quite a bit of attention recently as the newest city-center to evolve into a tech hotspot brimming with entrepreneurs and investors. Announcements by such market leading firms as Softbank and Goldman Sachs that they plan to establish a presence in Miami have given the impression of a new trend emerging.  Though it may seem sudden, Miami's local tech community has been growing slowly and steadily for years, according to Tigre Wenrich, the CEO of Lab Ventures.  The University of Miami's U Innovation, of which the 'Cane Angel Network (CAN) is a part, has been at the center of this development.  The fever pitch seems real as the benefits of business in Florida, the beckon of Mayor Francis Suarez and a ripening ecosystem suggest this tech moment will turn into a tech movement.
Doing business in Florida, and specifically in Miami, has many benefits including tropical weather, a lower cost of living than traditional tech hubs, a diverse population and no state income tax. The COVID-19 pandemic seems to be accelerating the migration which Rebecca Danta, managing director of angel network Miami Angels, called a "big wave" in the fourth quarter of 2020. Many transplants praise Miami including Keith Rabois, Founder Fund general partner, who says "Miami is an incredibly beautiful city, cosmopolitan, has an interesting mix of New Yorkers, Latin Americans, and Europeans." University of Miami's own David Goldberg, Alpaca VC general partner, stated "this is not a retirement decision for me." The shift to global remote working also means that talent acquisition is less challenging than ever before. Miami seems perfectly poised for a tech boom.
Mayor Francis Suarez seized the moment and tweeted Miami into the consciousness of the tech elite before opening the city's first Venture Capital office, Venture Miami, with CAN's own Steering Committee member Melissa Krinzman as its first ever Venture Capitalist in Residence. The Mayor responded to Varda Space co-founder Delian Asparouhov's idea of moving Silicon Valley to Miami, by asking "How can I help?" The tweet received 2.3 million organic views and is now on a billboard in San Francisco. This opportune moment was no coincidence as Suarez has been laying the groundwork for a tech boom in the magic city for more than a decade. His #CafecitoTalks, short, taped conversations with local and visiting entrepreneurs, such as Barstool Sports' Dave Portnoy and Matteo Franceschetti of Eight Sleep have garnered hundreds of thousands of views. Now, Venture Miami and Melissa Krinzman with the support of the Knight Foundation will work with growth-oriented founders, investors and community leaders to steer the course of the Miami Tech Movement.
The success of Miami's tech scene relies not just on key players, but on the ripening of a symbiotic ecosystem that positively impacts the local community. At the forefront is Softbank Group International which in late January announced a $100M fund directed at Miami's exploding tech scene. In the words of Marcelo Claure, CEO of Softbank Group International, "from emerging 'elder tech' to biotech, Miami is an attractive investment market that offers unique opportunities for immigrants and minorities to pursue entrepreneurship opportunities." True to his word, Softbank with support of Beacon Council launched a Data Science Training initiative for 10,000 people from underrepresented communities across Greater Miami. This initiative highlights the importance of expanding opportunity for everyone and building a workforce with skills for the jobs of the future in the local community.
One must marvel at how Miami has evolved since Julia Tuttle, the only woman to found a major American city, convinced Henry Flagler, the railroad tycoon, to expand his Florida East Coast Railway to Miami. Miami has always been a city that welcomes newcomers from the WWII veterans who went to UM on the GI Bill to the Cuban and Venezuelan immigrants looking for a safe haven. Now, Miami greets the movers and shakers of the tech world, excited to see what they have to offer to the special city the Cane Angel Network is lucky to call home.
This page was written by Dana Freedman and ​Jeffrey Camp​. Ms. Dana Freedman is a member of the Cane Angel Network investment team and is pursuing her MBA at UM graduating in 2021. Mr. Camp is the Managing Director of the Cane Angel Network.