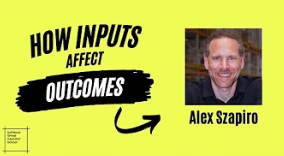 At Start
-
ups, Simplicity Leads to Success
By Matthew Monahemi and Jeffrey Camp
 At the 'Cane Angel Network, we work to help entrepreneurs build successful companies and investors to identify them early. To achieve this goal, we partnered with Softbank to host discussions of key aspects of starting or investing in early-stage companies. Recently, we spoke with SoftBank's own Alex Szapiro. Szapiro is currently the Head of Operating Group for SoftBank LatAm and Country Head of Brazil. In this role, Szapiro oversees investments and operations of SoftBank and its companies in the Latin American regions. Before joining SoftBank LatAm, he was the Head of Amazon Brazil. Before that he was the country manager of Apple Brazil. Here, he turned the Apple from a greenfield company to a $1.5B business. Using his years of gathered experiences, he reflects on what he sees as important inputs for a startup and how they translate to outputs.
 The first thing Szapiro identifies is that all successful startup shave one attribute it common, simplicity. Startups who have a simple business models areable to grow faster than those who have complex models. He helps explain this withan anecdotal reference to Amazon's use of the flywheel diagram, in the infancy stages of the business. The flywheel diagram shows what happens when each section of your business model succeeds and what happens when each section gets more and more momentum. In Amazon's case, their flywheel starts off with a good selection of products. They have different types of the same products, such as scents of candles, or different brands of candles. A good selection of products show how a customer might, initially, find Amazon. Next comes an overall good customer experience. The customers ease of finding and paying for the items are deemed extremely important from a customer experience standpoint. A good customer experience, especially with a good selection of products, drives traffic significantly. Now when you need that product again, you are more inclined to buy it off Amazon. This increase in traffic leads to an increase in sellers. Sellers are attracted because the see products that they also own selling on Amazon.More sellers inherently lead to more selection, spinning the flywheel faster. The more momentum the flywheel gains, the more profits the company makes. Amazon's unit economics are positive reflecting the reality that every unit you produce at this point more valuable than the previous one.
 At this point, Amazon can decide to give money back as dividends or reinvest in the company. Amazon, ultimately reinvested its profits, accelerating its growth. With the reinvestment of the company's profit, Amazon was able to innovate and obtain lower cost structure, translating to the lower prices it can offer customers, making the flywheel "spin" faster than ever. Szapiro further explains that this very understanding of flywheel diagram is used to analyze new companies at SoftBank LatAm. He explains this process can be applied to digital and physical businesses. Szapiro further identifies that with innovation comes criticism, even if you are innovating on behalf of the customer. He explains that even the iPhone was criticized in the beginning. Critics were saying things like "humans will never get used to a full screen phone." It is always important to realize for people looking for products and/or ideas that are innovative, they don't have a reference point to compare to. It is unfamiliar for someone looking in.
 Lastly, a point that Alex Szapiro drove home was the composition of an early-stage team. When investors do their research on a company, often they put a lot of weight on who they team is. Often asking questions like "are they talented?", "where have they worked before?", "have they launched a startup before?" These questions are in important to ask because they talk about an important input, culture. The founding team members set up the culture. Culture, when defined, will help define what type of people you want to hire. It will help design what type of working environment your company will be built on. Some good culture tips that Szapiro has identified are making it a point to move quickly, always thinking about the long-term goals, and making bold unapologetic decisions. Defining the culture of your company should be the first and ultimately one the most important parts of the success of your company. Very rarely does the company culture every change. The culture talking points of the first amazon message to shareholders have been aligned with the most recent message to shareholders.
 All in all, Szapiro's extensive background with technology companies has led him to successfully identify some of the needed inputs for a startup to establish success.